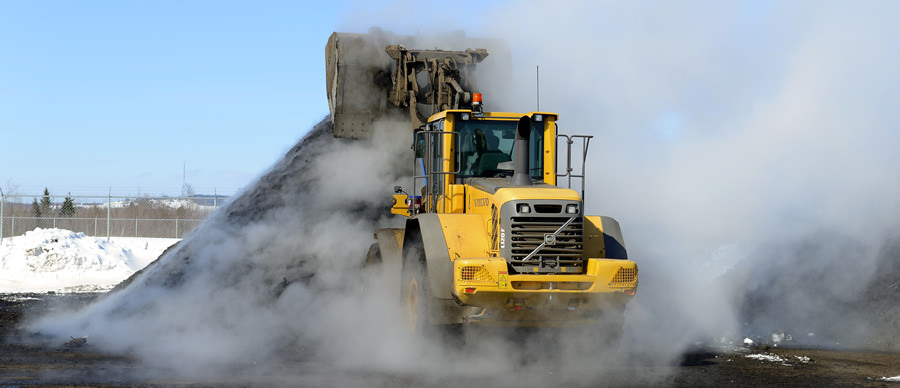 Wastewater treatment byproducts, or biosolids, are used as a key ingredient in the GMWC composting system.
Treatment of sludge at the WWTF involves conditioning with liquid lime, use of high-speed centrifuges for dewatering, followed by the addition of dry lime.
Upon arrival at the Composting Facility, it is mixed with green waste consisting of bark (from sawmills), ground forestry waste, wood chips and other green waste.
In 2013, 10,376 tonnes  or 11,528 m³ of treated biosolids were processed along with 23,057 m³ of green waste. The initial mix produced 40 windrows that are 50 m long on the composting pad. Windrows spend a minimum of eight weeks on the active aerated pad and are turned over three times. The windrows are covered with a breathable cover during the initial phases and can reach temperatures of more than 70° Celsius. The windrows are then moved and grouped into lots of three initial windrows on the curing pad where they are conditioned and left to compost at a slower rate while cooling down. The complete process takes one year. Consequently, 2013's production will be available for use in 2014.
Processing and product usage in 2013 involved screening of the 2012 stockpiles (lots) for use by the general public, landscapers and local municipalities. The public was allowed to pick up compost free of charge from the self-loading bins. Product was sold to landscapers and is provided to the area municipalities for their horticultural activities. Significant amounts of compost were also used by the City of Dieppe on sections of the walking trail and adjoining properties.
Usage Summary:
2012 Product (available in 2013)
approx. 10,300 m3
Public Pick-up Bins
5,000 m3
Landscapers
644 m3
City of Moncton
53 m3
City of Dieppe
1,261 m3
Town of Riverview
20 m3
Community Projects.
160 m3
Compost for Topsoil Blend
850 m3
Miscellaneous GMWC Usage
500 m3
To put this in a visual perspective, GMWC could load a three-kilometre-long train with compost every year. This volume is expected to continue to increase.
The product used includes Lots 2012-1 to 2012-12, with each tested in order to confirm product quality. Lots 2012-9 and 2012-12 remained on site at the end of the season and are available for use.